'Robotic Fish' powered by a circulatory system that runs on 'Blood'
Researchers at Cornell University have engineered a robotic fish that's powered by a circulatory system that runs on "blood."
For as advanced as modern robots are, they still lack the "multifunctional interconnected systems found in living organisms," the researchers write in their study, and thus can't reproduce their efficiency and autonomy.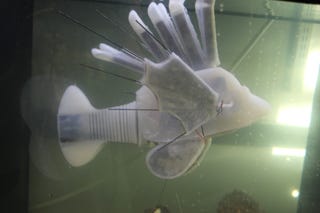 The scientists examined those constraints in the context of "multifunctional, bio-inspired applications," they write. It's how they ultimately arrived at an "energy-dense, circulatory system embedded in an untethered, aquatic soft robot."
The team, led by Robert Shepherd, a roboticist and associate professor at Cornell's Sibley School of Mechanical and Aerospace Engineering, used battery fluid in lieu of hydraulic fluid to move the robot. The battery fluid powers a pump that also makes the fins move, which allows the bot to swim. The scientists gave the device a soft body that measures just about 1.5 feet long.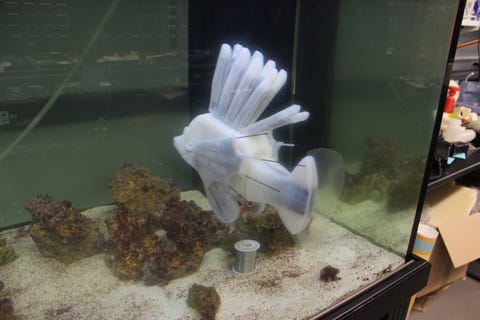 The robofish also has a hydraulic force transmission and an alternative energy-storage method, which enables it to swim for up to 36 consecutive hours without needing to recharge. More efficient features: The liquid inside the robot takes up less space (and weighs less) than traditional batteries, allowing more energy to be expended on motion.