'Federal budget 2019-20', National assembly session ended
The session of the National Assembly ended. National Assembly Speaker Asad Qaiser adjourned the budget session till 14th June.
Minister of State for Revenue Hammad Azhar presented the first budget of the Pakistan Tehreek-e-Insaf (PTI)-led federal government.
Prime Minister Imran Khan was present in National Assembly.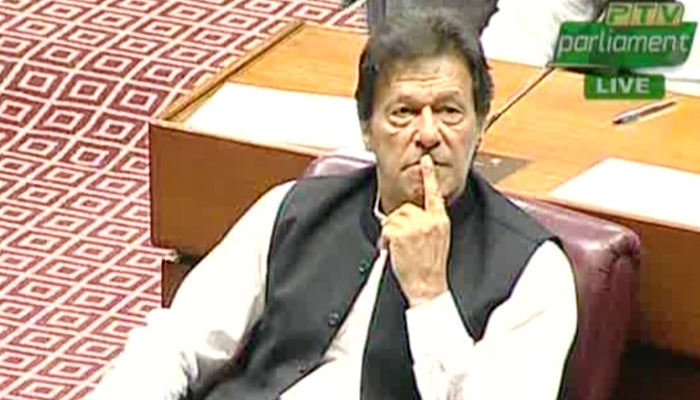 'Hammad Azhar presented Budget'
Traded Deficit
"There has been no increase in exports in the past five years," he said.
"Due to financial mismanagement, the deficit reached Rs2260bn. Circular debt in the energy sector reached Rs1200bn."
"Pakistan's total debt has reached Rs31 trillion. We are deeply indebted thanks to high-interest loans. Foreign exchange reserves had dropped below $10 billion. The current account deficit had reached a historic peak of $20bn, while the trade deficit had reached $32bn. The fiscal deficit was more than Rs2.26tr. [These deficits] were attributable to financial mismanagement in an election year."
"We have a brought a new thought, new commitment and new approach to governance," Hammad said.
Azhar added that the 11 percent tax to GDP ratio currently, was the lowest in the region. There was only 50 percent of SECP registered companies paying tax. "We will have to change this culture."
Hails Army Chief for Slash in Defence Budget
He lauded the army chief for his support to austerity campaign and making a cut in defence budget.
'Opposition Members Started Protest'
During the budget presentation, Opposition members gathered around treasury benches and started the protest.
Opposition members chanted slogans against the government and Prime Minister Imran Khan. Many were carrying placards saying 'Go Niazi Go' and 'Say no to IMF budget'.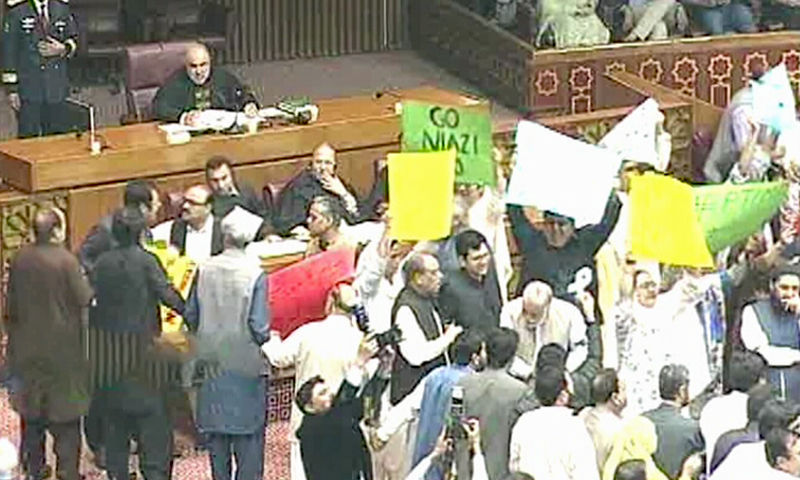 'Budget Key Features'
Total budget outlay Rs7,022bn—30% greater than the previous year
Civil Budget decreased from Rs 460 billion to Rs 437 billion.
Defence budget will remains Rs 1.150 trillion.
All cabinet members, including the prime minister, have agreed to a 10pc cut in salary.
Salaries for grades 1 to 16 will be increased 10pc, while salaries for grades 17 to 20 will be increased by 5pc for next fiscal year
No increase in salaries for civilian government employees from grade 21 to 22
Pensions increased by 10 percent
General sales tax on goods will remain unchanged and will stand at 17 percent
Food items supplied to bakeries and restaurants will be taxed at 4.5 percent
FBR tax target set at Rs 5,550bn
Rs 39 billion allocated for higher education.
Rs 70 billion has been allocated for the water resources.
Ruppes 1.800 billion remained for development programmes. The federal development program retained Rs 950 billion.
A ration card system is being introduced. With interest-free loans, 80,000 individuals will benefit from this system. Access to mobile phones will be provided to 60,000 females.
The government has created a fresh poverty eradication ministry that will implement social security programs. People enjoying the Ehsaas program include the population's bad, orphaned, homeless and disabled industries.
The stipend through the BISP scheme has been increased from Rs5,000 to Rs5,500.
Rs 70 bn on dam projects. Rs 15 bn and 20 bn respectively for Bhasha and Mahmand dam land acquisition.
Rs40 billion subsidies to be given for electricity, gas.
Rs 152 billion fixed for development expenditure of tribal districts.
Increase in circular debt has fallen from Rs38 billion to Rs24 billion. This will be completely eliminated in the coming years.
Rs 45.5 billion allocated for Karachi's development programme
Inflation targets have been set at between 5 and 7 percent.
Taking loans from the State Bank to bridge budget deficit results in rising inflation. The government has decided not to do this anymore.
Minimum wage set at Rs17,500.
Rs 11 billion allocated for Health
Income tax: 
Minimum taxable income for salaried class to be Rs0.6mn per annum
Minimum taxable income for salaried class to be Rs0.4mn p.a.
Non-filers no more restricted from purchasing property
Non-filers to be allowed to purchase property of over Rs 5mn.
Tax on services:
Tax on marble to be increased to 17pc
Tax on services to be introduced
Tax on sugary beverages to be increased to 13pc
Edible oil taxation to Rs40 per kg; FED on it to be increased
17pc sales tax on ghee, oil, etc
Rs2 per kg on cement
FED not only on 1700c and above but 2.5pc up to 1000cc, 7.5 on more than 2000cc
Rs5,200 tax per one thousand cig sticks, Rs117bn target of revenue from this measure
Refund bonds: FBR will settle tax refunds by issuing promissory notes
Active taxpayer list issue will be resolved.
PML-N's Budget 2018-19:
In April last year, previous government of Pakistan Muslim League Nawaz (PML-N) presented the federal budget for the fiscal year 2018-19 with a total outlay of Rs 5.9 trillion.
The tax revenue target was Rs 4.435 trillion while the GDP growth rate target was fixed at 6.2 percent. Rs1.1 trillion was apportioned for defence sector.
Among other salient features of the previous federal budget, Rs 688 million rupees were allocated for the alleviation of poverty and the federal expenditure was set at Rs 1010 billion whereas the provincial at Rs 1030 billion.